0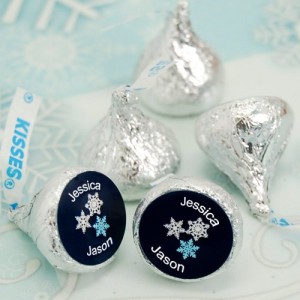 Everyone love chocolate, right?
And one of my favorite chocolate treats are those cute little Hershey's Kisses candies. They're cute and sweet, and as an added bonus you can get quite a few before you feel guilty about it.
Which is why I love the idea of personalized Hershey's Kisses for a wedding reception. The Kisses can be personalized with little stickers the reflect your wedding's theme or the season or even your state.
I think a great way to "gift" these to your guests would be to put a decorative dish at each table at the reception and fill 'em with Kisses!
Of course you could also package them in small bags or containers and have those placed at each spot, but I'm betting guests will love to see a bowl full of Kisses at the table so they can snack on them after dinner and before cake.
You can find these personalized Kisses here.
Read More:
candy favors
,
chocolate favors
,
fun wedding favors
,
kisses