0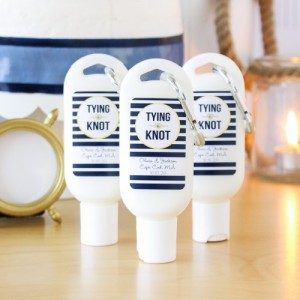 Summer is so close we can almost taste it! It's been a long, cold winter and spring but there is sunshine on the horizon!
And if you're planning an outdoor wedding this summer – whether it's on the beach or at a park or even in your own backyard – sunscreen is a must. No one wants their guests to suffer sunburn on your happy day!
Which is why I love this idea – small, personalized bottles of sunscreen with a carabiner so it can easily hook to a purse or bag! This is the best favor ever for that beach-themed wedding. And it's even better for a nautical-themed wedding.
You could put these personalized sunscreens in a big basket at the wedding location so guests can grab one as they arrive. Or, if you're having a location wedding, add them to the "welcome kit" for guests who traveled to the ceremony spot.
You can find these fun and functional personalized sunscreens with carabiner here.
Happy summer!
Read More:
beach wedding favors
,
fun wedding favors
,
nautical wedding favors
,
personalized wedding favors
,
summer wedding favors
,
sunscreen