0
Posted on May 29, 2015 by Traci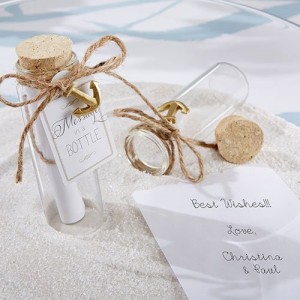 I'll admit that I've always wanted to find  a message in a bottle on the beach! I mean, how romantic would that be?
But since that's never happened (and likely never will) I've found the next best thing with this adorable Message in a Bottle wedding favors.
These small bottles with corks would be the perfect wedding favor for your summer, beach-themed, or even destination wedding.
There are so many options with these favors – you and your significant other could write a message to guests and place them in the bottle, or you could encourage your guests to leave you a message!
Imagine how fun that would be to collect all the messages at the end of the reception – you'd have an incredible keepsake from your wedding day! And the guests could take the bottles with them, maybe filled with sand from the wedding location.
You'll find these wedding favors here.
Other Posts You May Enjoy:
Read More:
beach wedding favors
,
beach weddings
,
fun wedding favors
,
message bottles
,
personalized wedding favors
Recent Posts