0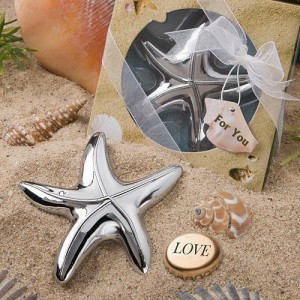 Since it's the middle of winter and we're all suffering from the winter blahs, it seemed like a good day to feature a beach-themed wedding favor.
We could all use a week at the beach right about now…am I right?
One of my favorite sea creatures has to be the starfish
and this starfish-shaped bottle opener would be a great little gift for your destination wedding.
You could add the bottle opener to your "welcome package" for all the out-of-town guests (and maybe include a few bottles of local beer so they can actually use the opener!)
Each chrome-finished opener comes in a beach-themed box so they'll fit in with your beach-y theme.
You can find these bottle openers here.
Read More:
beach wedding
,
destination wedding
,
fun wedding favors
,
starfish bottle opener
,
starfish theme
,
starfish themed wedding
,
summer wedding