0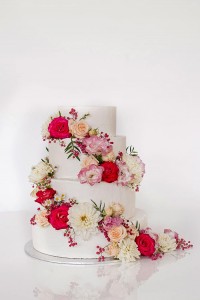 As much as I love the non-traditional cakes embellished with candies or even naked cakes with minimal icing, when it comes down to it I'm still a sucker for a traditional wedding cake.
To me that means a gorgeous and simple white cake with fresh flowers.
You really can't get any more classic than that unless you add an "old fashioned" bride and groom to the top of the cake. But I'm OK with just fresh flowers.
Take today's cake for an example. The four-tier cake feature simple yet lovely white icing and a cascade of fresh blooms. The flowers include my personal favorite – roses – along with other pretty blooms.
If you don't like roses (or pink flowers) you could always ask your florist to create a cascade of other flowers. I think sunflowers would be amazing in the late summer or early fall! Or a cake with dark red roses in the winter – that would be stunning.
You can make this cake your own with your favorite flowers.
We found this lovely cake here.