0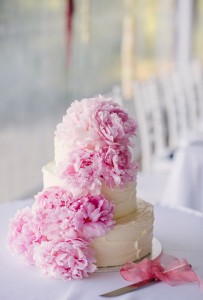 The more wedding cakes I look at the more I love seeing fresh pink flowers on cakes!
I never used to enjoy the color pink but I have to admit it really is starting to grow on me.
And today's cake is such a pretty-in-pink cake! It really is a perfect cake for a spring or summer reception.
The three tier cake is small – but I'm sure the flowers would look lovely on a larger cake too! I love that the icing isn't stark white but is more of an ivory icing. It plays well with the pink peonies.
And while I adore a burst of flowers atop a cake, I really love a cascade of blooms down the side of a cake. It's much more dramatic!
You can find this lovely springtime cake here. It was created by Muratti Cakes & Gateau.
Read More:
floral wedding cakes
,
peonies on cakes
,
pink flowers on cakes
,
spring wedding cakes
,
wedding cake with fresh flowers
,
wedding cake with pink flowers