0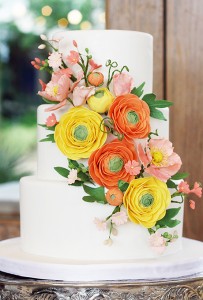 Summer has officially arrived! And that means all the flowers are in bloom around my yard and it's so pretty.
Of all the wedding cake trends I love (and there are many) I have a special spot for cakes with flowers. Whether we're talking fresh flowers or sugar flowers, show me a cake with blooms and I'm in love.
This is probably why my own wedding cake (a long, long time ago) features eight (yes, EIGHT) tiers of cakes and many fresh Black Magic Roses.
Today's cake is a bit more subtle but still just as lovely.
This three-tiered cake features stunning white icing and a cascade of blooms including poppies and ranunculus.
Of course you could choose to use flowers that match your bouquet. A floral cake is perfect for that summer wedding.
You can find this cake here. It was created by Coco Paloma Desserts.
Read More:
floral wedding cakes
,
flowers on cakes
,
fresh flowers
,
summer wedding cakes
,
wedding cakes with fresh flowers