0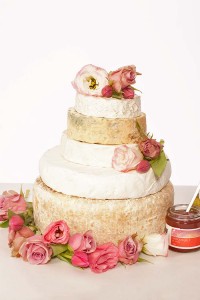 I love cheese.
I'm talking I could eat cheese at every meal if given the opportunity. Which is probably why I would love to be invited to a wedding reception where the cake was made entirely of cheese.
Just like today's wedding cheese cake.
This stunning cake was created using five wheels of cheese and it would be the perfect "cake" for a reception where there was also a dessert buffet.
Or maybe you aren't a fan of sweets and you'd rather let your guests eat cheese with fancy crackers and marmalade.
Which is totally acceptable of course.
The other thing I really love about this cheese cake is that it is adorned with gorgeous fresh flowers. That really gives it that "wedding cake" look. And if you aren't a fan of roses this cake would be amazing with sunflowers!
You can find this cheese wedding cake here.
Read More:
cheese
,
cheese cakes
,
cheese wedding cakes
,
fall wedding cakes
,
floral cakes
,
unique wedding cakes
,
wedding cakes from cheese