0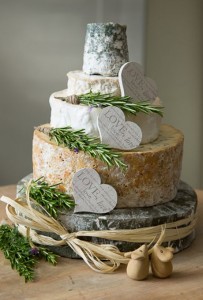 Confession time – I love cheese. If given the chance I'd probably eat cheese at every meal of the day and twice on Sunday.
Cheese is awesome.
And if you love cheese just as much I think you're gonna love today's featured wedding cake because it is four tiers of CHEESE.
This cheesy wedding "cake" would be perfect if you're hosting a wine-themed reception or if you're going with a "dessert bar." Or if you just really love cheese and want to have a totally unique wedding "cake."
No matter how you slice it (see what we did there?) this rustic inspired cheese block wedding cake will be the hit of your big day (I mean, second only to that whole first kiss thing).
You can find this cheese wedding cake here. It was created by West Country Cheese Co.
Read More:
cakes made from cheese
,
cheese cakes
,
cheese wedding cakes
,
Rustic Wedding Cakes
,
unique wedding cakes