0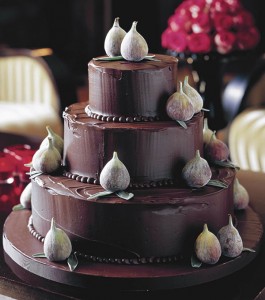 If there's one thing I wish I could do over from my wedding so many years ago it would be to include chocolate in my wedding cake.
Back in the day it was all about the white wedding cake – sure the flavors under the icing could vary, but standard white icing was all the rage.
But now I love the idea of serving a chocolate cake with chocolate icing because your guests will never expect it!
This lovely fall-inspired cake is actually a three-tiered chocolate torte covered with chocolate ganache. And the only embellishment – other than the lovely piping around the tiers – are fresh figs.
This cake is elegant and out-of-the-ordinary, which is perfect for today's modern couple.
You can find this chocolate wedding cake here.
Read More:
choclate cakes
,
chocolate wedding cakes
,
fall wedding cakes
,
modern wedding cakes
,
unique wedding cakes