0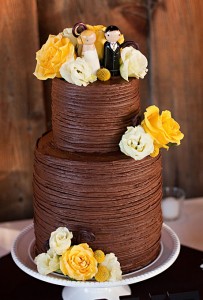 If I had the chance to do my wedding cake over, I'm pretty sure there would be chocolate involved. As in, I'd have an all chocolate wedding cake.
Because, chocolate.
I love the idea of bucking a trend – white wedding cakes – and serving something you really love. Like chocolate cake. Or at least cake with chocolate icing.
Like today's cake – a lovely tiered cake featuring chocolate buttercream icing! It's the perfect cake for a fall wedding.
The addition of an adorable cake topper from Pretty Pixie takes this cake over the top!
And if you aren't a fan of white and yellow roses then by all means add some fresh blooms that are more your style.
You can find this cake here. It was created by Cakes to Celebrate.
Read More:
chocolate buttercream icing
,
chocolate wedding cakes
,
fall wedding cakes
,
fun wedding cakes
,
non traditional cakes