0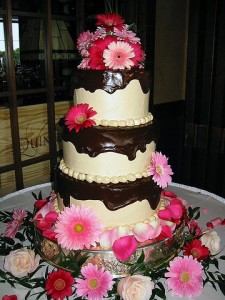 So here we are a week after Halloween and I still have chocolate, chocolate, chocolate on the brain! Admittedly that might have something to do with the three bowls of candy in my house.
Whatever the reason, I had to find a cake today that was all about the chocolate and would you look at this beauty?!
This three-tier cake looks like it is dripping with chocolate ganache. Really, what could be better than that?
Each layer is covered with a rich mocha (!) buttercream icing, and that is topped with chocolate ganache, making it a truly stunning cake and one that I'd like to sample right now!
The addition of fresh roses as an embellishment adds to the presentation of the cake. Imagine this cake at your wedding with your wedding flowers as the decoration. It would be amazing, right?
What I love almost more than the chocolate ganache is the uniqueness of the cake. It's not often that one sees a wedding cake dripping with chocolate ganache.
I found this deliciously gorgeous cake here, and it was created by Delicately Delicious.
Read More:
chocolate ganache
,
chocolate ganache cakes
,
chocolate ganache wedding cakes
,
chocolate wedding cakes
,
ganache wedding cakes
,
mocha buttercream