0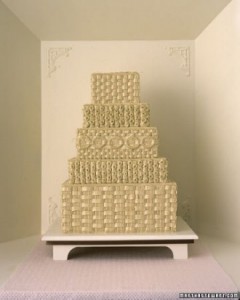 It sure feels like fall today so that got me thinking about all things fall, like trips to the apple orchard. And baskets full of apples.
Which brings me to today's wedding cake inspired by baskets.
I really like this five-tier cake for several reasons, including the fact that the icing color is rather non-traditional. It isn't often that you see a mocha-hued wedding cake.
This cake is also unique thanks to the five different sized tiers. There's nothing uniform about the cake – another reason I like it! The icing was applied with different size tips to create the different style of basket weave.
A cake like this would be lovely at a fall wedding – and there's so much going on ON the cake that you really don't need any kind of cake topper.
You can find this basket wedding cake here.
Read More:
brown wedding cakes
,
fall wedding cakes
,
square wedding cakes
,
unique wedding cakes