0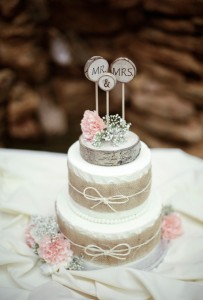 I woke up this morning to very chilly fall-like temperatures and the reality that fall really is just around the corner.
So what better time to start talking about fall wedding cake, right?
I love the idea of having a rustic fall wedding – especially if it's still warm enough outside to host an outdoor reception.
Which brings me to today's wedding cake – it's very rustic but also elegant, which isn't an easy combination to pull off.
This simple, two-tier cake features simple white icing but the burlap and bow embellishment gives it a shabby chic feel. The third "tier" is really a tree-stump inspired cake topper and it is the perfect addition for this cake.
It's a simple yet elegant cake and it's perfect for a fall wedding.
You can find this rustic wedding cake here. It was created by The Crown Room.
Read More:
fall wedding cakes
,
Rustic Wedding Cakes
,
tree stump cakes
,
unique wedding cakes