0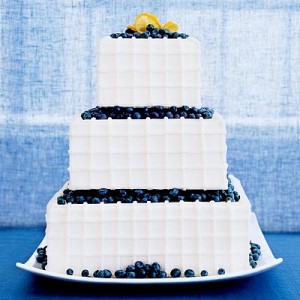 It's official. The end of summer is here and now it's time to start dreaming of fall colors and flavors.
But, before we let summer out of our grasp, I had to share one more summertime-inspired cake with you.
Behold, the lemon and blueberry wedding cake. Isn't it stunning?
I love the square tiers and how the frosting design has a slight basket weave look to it. After all, today is the last official day of summer and you should all be out enjoying a family picnic. Which is why I had to share a cake that reminds me of all the things we'll be missing in a few short, cold months.
The cake itself is a lemon buttermilk with a lemon meringue buttercream and fresh blueberries. Nothing says summer quite like the combination of lemon and blueberries. And I am loving the contrast of the fresh blueberry garnish against the bright white frosting.
And if blueberries aren't your favorite, I can imagine this cake looking just as stunning and summery with bright red fresh strawberries or raspberries – both of which are incredible and beautiful when paired with lemon.
This is a perfect cake for that summer wedding you're planning for next year.
Source
Read More:
basket weave wedding cakes
,
blueberry accents on wedding cake
,
lemon and blueberry wedding cake
,
lemon wedding cakes
,
square wedding cakes
,
summer wedding cakes
,
white wedding cakes