0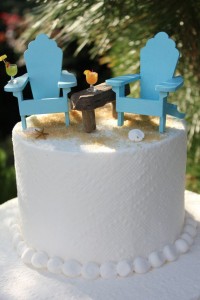 It seems almost official doesn't it?
Summer is just about over. Everything is back-to-school this and that…so it's time to fit in a few more beach-themed cakes and toppers before everything turns to pumpkins and fall.
Which brings me to today's cake topper. I am a huge fan of Adirondack chairs – they grace the deck of my favorite beach house.
And this "Jimmy Buffet" themed cake topper with chairs and miniature tropical drinks is exactly what every beach-themed wedding cake needs!
This cake topper is from Landscapes In Miniature which is a quirky shop on Etsy!
The two chairs with the mini drinks and sea shells would be perfect for your beach-y wedding cake. You can also choose to add two pairs of flip flops to the cake topper design.
You can find these and several other adorable and fun cake toppers on this Etsy page!
Read More:
beach wedding
,
cake toppers
,
fun cake toppers
,
summer cake toppers
,
summer weddings