0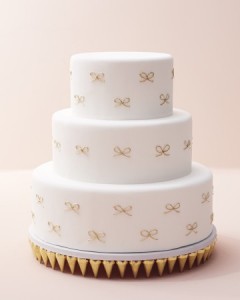 I like finding wedding cakes that are unique – something you aren't going to see at every other wedding.
Today's cake is that kind of cake. It's not every day that you see a wedding cake adorned with tiny gold bows, and that makes me love it even more.
This three-tier cake is perfect for an elegant reception with a small guest list.
The cake features perfect white icing embellished with gold bows that were created with royal icing. I love how the little bows play off the gold spikes in the base.
The cake is so pretty and elegant that a cake topper would take away from the overall look. And the thing I love about the bows is that you could always change up the color. Black bows would be incredible.
You can find this cake here.
Read More:
elegant wedding cakes
,
gold and white cakes
,
gold cake
,
simple wedding cakes
,
wedding cake with bows