0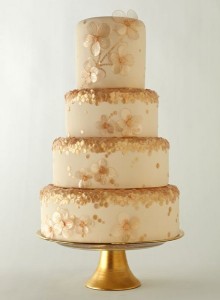 Does anything glitter quite like gold?
This cake is, in a nutshell, drop-dead gorgeous.  It's so luxurious, and just completely fantastic. For possibly the first time, I am saying this silly sentence: it's too pretty to cut.
It's not often that I'm completely captivated by a cake, but the artist who created this one is an incredible talent. I'm not even a huge gold fan. But this cake is perfect.
Think about it. Gold is so lush by itself, so rather than going for fancy, multi-petaled flowers, they keep it simple with a simple folk-art design. And rather than gobs of gold-tinged icing, there are hundreds (thousands?) of beautiful, shimmery sequins.
It takes a deft touch to neither over- nor under-do it. This cake displays that perfect balance.
Gorgeous.
The Cake Art Studio created this wondrous confection. And my world is a little prettier today for it.
Read More:
floral wedding cakes
,
gold and white wedding cakes
,
gold wedding cakes
,
luxurious wedding cakes
,
white wedding cakes