0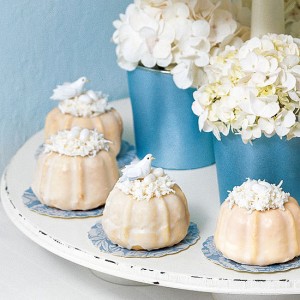 It's no secret that I love cake. Especially wedding cake.
There's just something extra special about wedding cake that makes it taste better than your average every day cake.
So how amazing would it be if you could serve your guests their own wedding cake?
I'm not talking about a slice of cake – I'm talking about miniature wedding cakes. One for every guest.
Now granted, this wouldn't be ideal if you have, say, 350 guests coming to your reception. But if you were having a small reception and didn't want to splurge on a huge cake, individual cakes would be perfect.
I like the idea of the mini bundt cakes but I'm a frosting person and bundt cakes tend to be a bit slim in the icing department. Perhaps your baker could create miniature wedding cakes or small one-tier white cakes.
You could set the cakes at each place setting and then your guests don't need to wait in line for cake or wait to be served.
You can find these mini cakes here.
Read More:
fun wedding cakes
,
individual wedding cakes
,
informal wedding cakes
,
mini wedding cakes
,
personal wedding cakes