0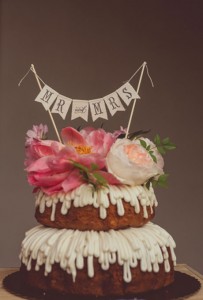 Ah, bundt cakes. The ubiquitous cake of the 1950s and 1960s.
They're so retro that they're cool again – just ask my mom. She loves to bake bundt cakes for family birthdays, complete with homemade chocolate drizzle.
Imagine having a bundt cake as your wedding cake – now that would be cool. Plus, they're basically the original "naked" cake, with only a drizzle of frosting.
Today's featured cake is a gorgeous bundt cake with white icing and a burst of fresh flowers. It's the perfect fun and unique wedding cake!
And it's versatile enough for every season – change up the flowers to match the season of your wedding.
The addition of the fun banner cake topper adds the perfect amount of whimsy to this already fun cake.
You'll find this bundt wedding cake here. It was created by Nothing Bundt Cakes.
Read More:
bundt cakes
,
floral wedding cakes
,
fresh flowers on cakes
,
fun cake toppers
,
fun wedding cakes
,
naked wedding cakes
,
retro wedding cakes