0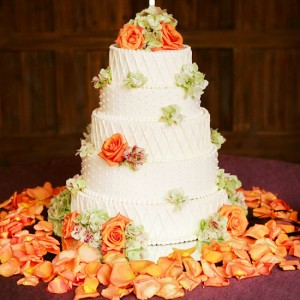 There's something to be said for a traditional white wedding cake.
While I do love the non-traditional, oddly shaped, bright colored cakes that I often feature here sometimes it is nice to just find a lovely white wedding cake.
This four tier cake is simple and elegant and practically perfect in every way. There's nothing boring about it either. The tiers are are iced with traditional butter cream icing.
But instead of leaving them plain the icing is decorated with Swiss dots and diamonds that were piped onto the icing – giving it just the right amount of elegance and pop!
To add even more to the cake – without going overboard – fresh flowers are used to adorn the cake. This is a fun idea because you can use any flower you like. Smaller buds would be ideal for the cake but larger blooms would work for the cake topper.
And, a traditional white cake is perfect in any season.
You can find this cake here.
Read More:
cakes with fresh flowers
,
elegant wedding cakes
,
simple wedding cakes
,
spring wedding cakes
,
summer wedding cakes
,
white wedding cakes