0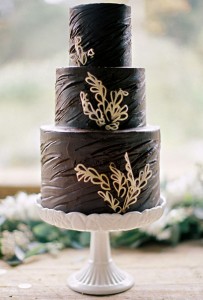 Chocolate cakes as wedding cakes is a trend I can completely support.
I love the idea of serving up something nontraditional – like this dark chocolate wedding cake.
It's so dramatic and unexpected which makes it perfect!
Of course a cake like this would be great at a winter wedding when it's cold outside.
In the summer I'd go with a naked chocolate cake – less icing is a good idea for those steam summer months.
This three-tiered chocolate cake is made even more incredible by the white floral details. You don't need much more on this cake – no cake topper necessary.
You can find this dark chocolate wedding cake here. It was created by the Sweet & Saucy Shop.
Read More:
chocolate wedding cake
,
dark chocolate cakes
,
modern wedding cakes
,
winter wedding cakes