0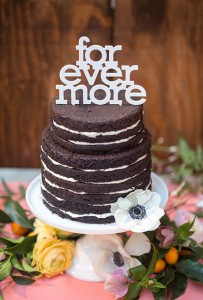 I have a confession to make – I love Oreo cookies.
Which is probably why I had to choose today's wedding cake to showcase. It looks like a stack of Oreos. OK, well it looks like a stack of Oreos to me.
I'll also confess that I'm not a huge fan of naked wedding cakes. I'm too much of a frosting fan to purposely eat a cake that lacks frosting.
However, this naked dark chocolate cake is really stunning because of its lack of frosting. The white icing peeking out between the tiers adds just the right amount of drama to this cake.
And if you wanted to add some whimsy instead I bet this cake would be stunning with pink icing.
The modern cake topper is a nice touch but I'd love to see this cake with a bouquet of dark red flowers on top. That would add some serious glamour and drama. And it would be ideal for a winter wedding.
You can find this cake here. It was created by Fox & Fawn Bakehouse.
Read More:
chocolate cakes
,
modern wedding cakes
,
naked wedding cakes
,
Oreos
,
winter wedding cakes