0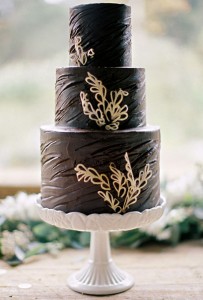 Can you feel it? Fall is almost here!
And that means it is time to start talking about dark and dramatic – and in today's case – chocolate wedding cakes!
I love the dramatic look of today's cake – a tower of dark chocolate icing adorned with a few white flower details.
It's the perfect cake for a fall wedding.
Of course it's also perfect if you love chocolate. The icing looks like a thick, fudge icing which is absolutely perfect in my book!
And the white floral details add the perfect touch of elegance to a cake that could be boring without any decoration. I'd love to see this cake with something deep red or maybe even orange.
You'll find this cake here. It was created by Sweet & Saucy Shop.
Read More:
chocolate wedding cake
,
dark chocolate
,
dark chocolate cake
,
dark wedding cakes
,
fall wedding cakes
,
modern wedding cakes