0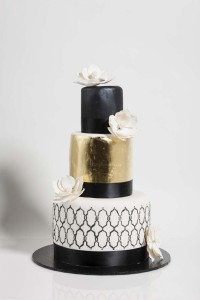 Sometimes it's fun to break from tradition and think outside the cake box, especially if you're looking for a fun and modern twist for your wedding cake.
Take today's cake for example.
It has several modern details that make it the perfect cake for your ultra chic and modern wedding reception.
The three-tier cake uses black ribbon to accentuate the tiers, while some fancy detail work makes the bottom tier stand out.
Of course your eyes might be immediately drawn to the very dramatic top tier with its black icing. But for me the winning tier has to be the glistening gold center tier. It's just the right amount of sparkle for this cake.
I would love to see this cake at a New Year's Eve-themed reception. It's absolutely perfect for that kind of celebration.
You can find this ultra-modern cake here.
Read More:
black and white cakes
,
gold and black cakes
,
modern wedding cakes
,
new year's eve cakes