0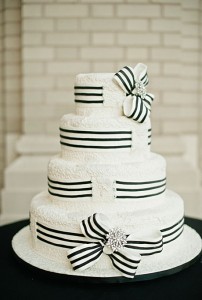 There's just something about a black and white wedding cake that (subtly) screams glamour and elegance.
I'm a fan of the traditional white wedding cake – even though I do love cakes with pops of color too – but when the only color added is black it takes the cake to a whole new level of awesome.
I love this wedding cake. The tiers are iced to resemble lace – perhaps just like the lace in your wedding dress. And then each tier is embellished with a gorgeous and modern black and white fondant ribbon.
And if that wasn't enough old school glamour, the fondant ribbons are accented with sparkly brooches. And yes, you can eat everything on the cake except the brooches.
This cake would be perfect at a formal reception any time of year.
We found this cake here. It was created by Classic Cakes and Cheesecakes.
Read More:
black and white cakes
,
cakes with ribbon
,
elegant wedding cakes
,
fall wedding cakes
,
winter wedding cakes