0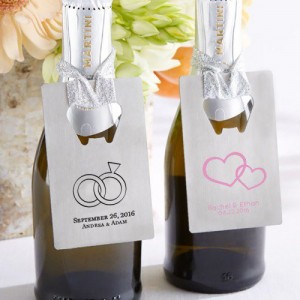 If there's one thing I can't ever find in my kitchen "utensil drawer" (it's a thing, trust me) it's a bottle opener. I mean I know we have one…I just can't find it!
Which is why I am loving this credit card sized bottle opener.
It's big enough that I can't really lose it and it would definitely stand in a drawer full of tablespoons and grapefruit knives (also a thing).
I adore the idea of attaching these fun and functional bottle openers to a bottle of beer or hard soda – it would be even cooler if you attached it to a bottle of regional beer! That would be a super fun wedding favor.
These credit card bottle openers can be personalized to fit your style and theme and your guests will love them. And they'll never lose them.
You'll find these bottle openers here.
Read More:
bar wedding favors
,
credit card bottle openers
,
drinking wedding favors
,
fun wedding favors