0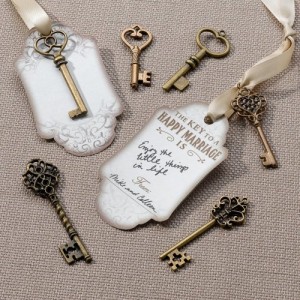 Today's fun wedding favor is actually an interactive gift.
I love the idea of wedding guests sharing their "marriage wisdom" with the happy couple. And today's favor is a great way to do that!
These vintage keys come with tags that guests can use to share their well wishes and words of advice.
The tags can be dropped in a box for the newlyweds to read later and guests can take the keys home as a fun little gift.
Or, the tags and keys can be collected by the happy couple to display at home as a reminder of their big day.
Either way, these vintage keys and tags are a fun wedding favor!
You can find the vintage keys here.
Read More:
fun wedding favors
,
key wedding favors
,
vintage favors