0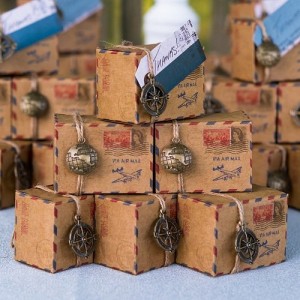 When I was younger I had a pen pal from England and the best days were the ones where I found an airmail envelope in the mail box!
So you can imagine how excited I was when I found these very cute – and apparently "shabby chic" – airmail favor boxes!
Just look at them. They have to be the best favor boxes I've found in a while.
These vintage-looking favor boxes would be great for the bride and groom who love to travel and want to incorporate that theme into their wedding. They would also be perfect for a destination wedding or even a wedding with a rustic theme.
I just love the look of the vintage airmail box and the travel-inspired charms make it a must-have wedding accessory! And the best part – other than the design of course – is that you can fill the box with your favorite candy or sweet treat.
You can find these airmail favor boxes here.
Read More:
airmail favor boxes
,
destination weddings
,
fun wedding favors
,
rustic wedding favors
,
shabby chic wedding favors
,
travel inspired wedding favors
,
travel theme wedding