0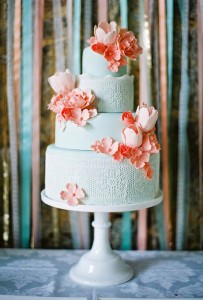 Lace-inspired wedding cakes are a trend I could definitely get behind, especially for summer weddings.
I love the idea of incorporating lace into the design of one's wedding cake.
You could even take a sample of the lace from your wedding dress and have the design appear on your cake.
Today's cake isn't just a standard white cake with some lace on top though. The lovely mint color of the cake with the lace overlay and some coral blooms make this an ideal summer wedding cake.
The colors evoke a day at the seashore and the lace veil adds the perfect amount of elegance to the cake.
You can find this wedding cake here. It was created by Francesca Neves Cupcakes.
Read More:
elegant wedding cakes
,
lace wedding cakes
,
mint and coral cakes
,
mint wedding cakes
,
summer wedding cakes