0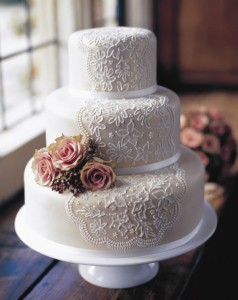 Having recently celebrated my own wedding anniversary, it's always fun to think back to my wedding cake.
It was eight (yes, EIGHT) tiers of heart-shaped cakes. It was massive. But it fit my wedding theme – which was hearts. Everything was hearts.
I like a cake that fits in to a wedding theme or incorporates something from the wedding.
Just like today's cake.
This lacy wedding cake would be the perfect cake if you're looking to incorporate lace detail from your wedding dress into the cake.
It's subtle yet beautiful. And the fall-colored roses add that perfect seasonal touch.
Of course, if you aren't using roses as your flower you can always add a little more personalization and incorporate the flowers from your bouquet.
You can find this lace-inspired cake here.
Read More:
fall wedding cakes
,
lace wedding cakes
,
themed wedding cakes
,
wedding cakes with roses