0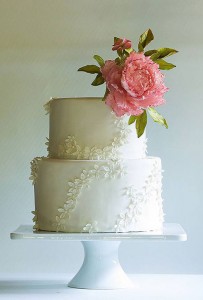 I'm back with another lace-inspired wedding cake because I honestly just can't get enough!
Today's cake is one that I could stare at for hours, it's so gorgeous.
The lace effect on this cake was painstakingly created by creating dozens of tiny sugar blossoms and then arranging them in a trail on the cake. Imagine the time it took – this cake is really too pretty to eat!
I also love the pop of color on the cake from the lovely pink bloom and greenery on top of the cake.
This cake is elegant and beautiful and I want one for myself, even though I'm already happily married!
You'll find this cake here. It was created by Swedish cake designer Lina Veber Cake.
Read More:
flowers on cakes
,
hand-decorated wedding cakes
,
lace wedding cakes
,
pink flowers on wedding cakes
,
white lace wedding cakes