0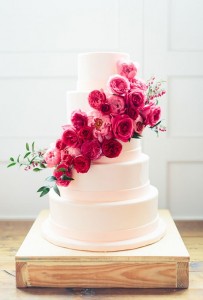 Growing up, pink was not my favorite color. But now, I will admit that I'm kind of partial to all things pink.
And I especially love the idea of having a pink wedding cake. My favorite hue – a light pink. Think, pastel.
It's the perfect color for spring or early summer and it has a very happy vibe to it.
Today's featured cake is a lovely shade of light pink with white accented by a gorgeous cascade of dark pink blooms including garden roses, peonies, and bleeding hearts.
This cake shouts (in a very delicate, ladylike manner) spring thanks to the color and the fresh blooms. It would be fun to substitute red and white flowers for the pink blooms and see what that color combination might look like.
You'll find this lovely pink cake here. It was created by The Cake Plate.
Read More:
cakes with flowers
,
pink and white cakes
,
Pink wedding cakes
,
spring wedding cakes