Pink wedding cakes
Pink is one of the most beloved colors of brides everywhere. Few colors send the message of sweetness and romance better than pink. Feminine and just plain pretty, brides love it. Yet, hues of this blushing color run the gamut, from the palest, almost white pink, to super-sassy hot pink – and all the variations can be featured in a variety of ways to make your wedding cake truly sensational.
Are you the type of bride that simply cannot get enough pink? Then consider enrobing your entire cake in pink fondant or buttercream. A pink wedding cake will usher in an elegant vibe to your reception, and will let your guests know that you are inspired by classic, understated beauty.
On the other hand, you might prefer the bold, fresh look of hot pink. While a pale pink cake would be beautifully trimmed with white piped icing, or accented with a soft green or right chocolate brown, an exciting hot pink cake would work well with black as an accent color. Or a snazzy, eye-catching color combination, like green and pink or orange and pink, might just be the thing for you.
Is too much pink too much? Then you might prefer pink as an accent on a cake that is otherwise all one color. Consider pink ruffles piped in buttercream around the base of your cake, or a pink bubble or pearl treatment all over the layers. If you like the bold colors, like fuchsia or magenta, fondant cutouts might be the way to go. A stunning cake might feature the latest technique of applying a damask pattern to a white cake in the shade of pink that you favor. A pink and black or brown monogram together with a fondant ribbon would serve to "wrap" your cake up as pretty as any wedding present.
Some couples prefer to leave the color off of the cake, opting for the traditional white or ivory wedding cake. If this is more your style, but you would still like to add a splash of color, consider getting creative with flowers or fruit. Pink flowers can enhance any wedding cake with grace and beauty. Popular choices include roses, peonies, lilies, orchids, and gerbera daisies. Another option would be to discuss with your cake artist the possibility of trimming your cake with fruit – but not real fruit; rather, fruits and leaves made out of gumpaste or marzipan. A number of fruits, from apples, to cherries, to raspberries, could be tinted with various shades of pink for a lovely effect.
If you love pink, then consider using it to decorate that centerpiece of your reception, your wedding cake. Whether you use a little or a lot of this color as you design your cake, you are sure to convey the romance of the day, even as you provide a delicious treat for your guests.
0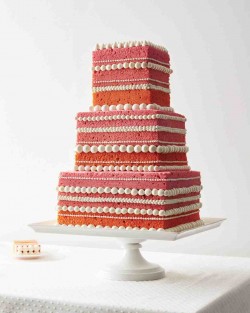 While I'll always love a simple white wedding cake, sometimes you have to think outside the cake box and consider a brightly colored wedding cake.
Take today's cake as an example.
This gorgeous pink wedding cake is following the naked wedding cake trend with a pop of color. Read More
0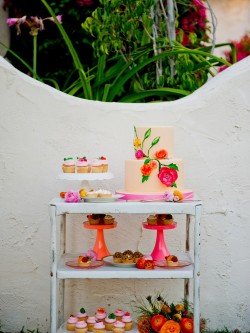 Spring has officially (finally) sprung!
The birds are chirping, the flowers are blooming, and to celebrate all things spring, it seemed appropriate to showcase a lovely floral cake today.
I love this idea of this featured cake, because it also includes gorgeous cupcakes with pretty pink frosting and flowers! Read More
0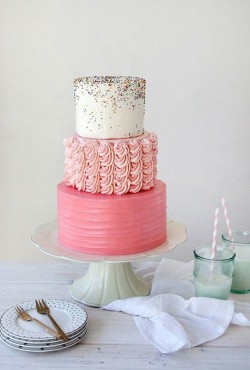 I love the idea of using sprinkles on a wedding cake, but not everyone is a fan of the tiny candies.
Which is why I love today's featured cake – it showcases one tier of sprinkles while keeping an elegant and fun vibe.
This three-tier cake might seem a bit "busy" at first glance, but it would be perfect for a spring or summer wedding. Read More
0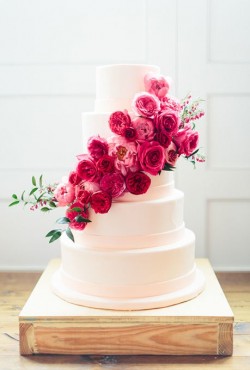 Growing up, pink was not my favorite color. But now, I will admit that I'm kind of partial to all things pink.
And I especially love the idea of having a pink wedding cake. My favorite hue – a light pink. Think, pastel.
It's the perfect color for spring or early summer and it has a very happy vibe to it. Read More
0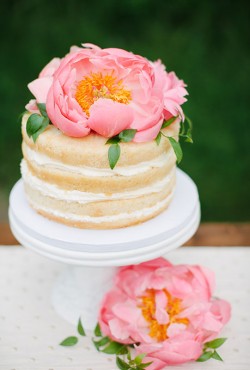 Sometimes, less is better.
For example – when it is 95 degrees outside with 1 million percent humidity, it's better to be in a bathing suit than a business suit. Less is better.
The same can be said of wedding cakes. When it's hot and humid outside sometimes the last thing you want is a wedding cake with a whole bunch of icing. Read More
1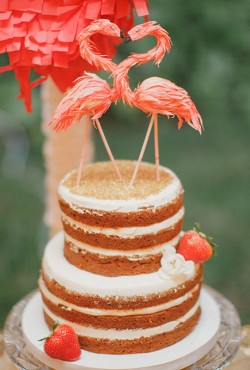 I made a trip to a local greenhouse over the weekend to purchase my summer flowers.
And while picking out my blooms, I spied the strawberry fields next door which got me thinking about that sweet summer fruit.
Around here, strawberries hit their peak in mid-June or so, which means I'll have a chance to enjoy some very, very soon!
But for now I'll have to be happy with today's wedding cake – which is adorned with bright red strawberries! Read More
0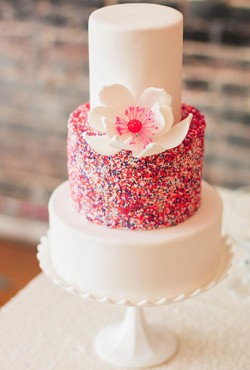 I really can't get enough of wedding cakes with sprinkles!
They're just so darn whimsical and fun.
Today's cake is particularly gorgeous with its light pink icing and just one tier decked out in colorful sprinkles. It really make the whole cake just pop!
The addition of a pretty pink bloom is the perfect enhancement – it adds some elegance to the cake but still keeps it fun. Read More
0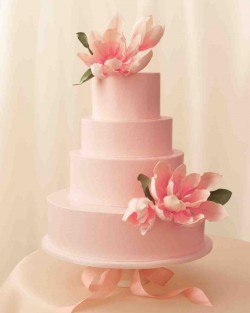 There's just something about the color pink and springtime – they go hand-in-hand perfectly.
And today's gorgeous pink creation is perfect for your spring or early summer wedding thanks to its elegance and the addition of some lovely handmade gum paste magnolias (colored pink with edible paint!). Read More
0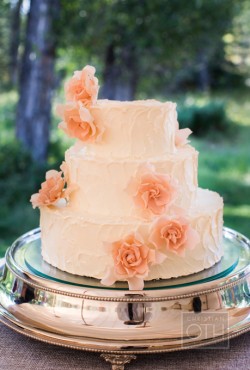 I wasn't always a fan of the color pink. It took becoming a mom to two girls to really bring me around to the many shades of pink.
I love seeing different pinks used in wedding cakes – and it always reminds me of the line from 'Steel Magnolias'  when Shelby says "My colors are blush and bashful" and her mother responds with "Your colors are pink and pink." Cracks me up every time.
Today's cake is a light peachy-pink hue and it's absolutely perfect for a spring or summer wedding. Read More
0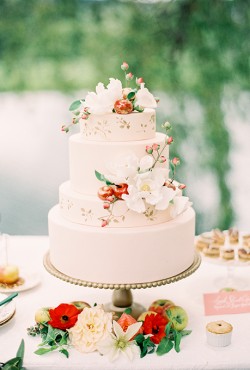 Ah, spring is in the air! The flowers are blooming the grass is getting greener. And it's lovely!
If you're looking for a spring-worthy cake that feature fresh flowers (and even a little bit of fruit), today's cake is that cake.
I'm loving the subtle blush color of this cake – it's just slightly pink and it's perfect. Read More