0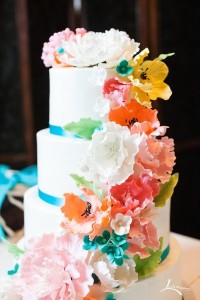 Spring is in the air and it's the perfect time to showcase another vivid and colorful springtime cake!
While a traditional white wedding cake is always nice, I love to find wedding cakes that aren't afraid to show off a lot of bright colors.
Brightly colored cakes are so happy and festive and perfect for the happiest day ever.
Today's cake features three tiers with white icing, separated by gorgeous teal blue ribbons.
And while that pop of color would have been sufficient, the cake takes it up a few more notches with lovely blooms.
The addition of the cascading flowers in various springtime shades is the perfect pop of color for spring and early summer!
This cake was created by Anticipated Creations Cake and you can find it here.
Read More:
colorful wedding cake
,
floral wedding cakes
,
spring wedding cakes