0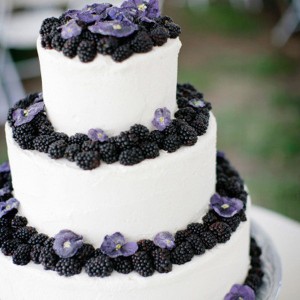 One of the best things about summer is the abundance of fresh berries – strawberries, blueberries, and even blackberries.
And if you're looking for the perfect summer wedding cake it seems like a perfect idea to adorn your cake with any (or all!) of those fresh berries!
Not only do fresh berries add that perfect summertime touch to a wedding cake, but it also seems like a match made in cake heaven (strawberry shortcake, anyone?).
Today's featured cake is a gorgeous confection embellished with beautiful blackberries and tiny violets. It's the ideal summer wedding cake!
You don't need much more on this cake other than the fresh berries. And if blackberries aren't a favorite this cake would also be gorgeous with deep red strawberries. Yum!
This cake was created by The Village Patisserie and you can see more here.
Read More:
blackberries on cakes
,
fresh berries on cakes
,
summer wedding cakes
,
wedding cake with berries