0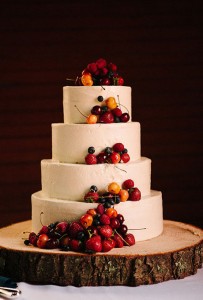 One of my favorite things about mid-to-late summer is the abundance of fresh fruit at my local market. Peaches, plums, cherries, berries, and more.
And I can't think of a better way to showcase all those gorgeous fruits than on a lovely white wedding cake!
People don't often think about using fresh fruits as an embellishment on a cake, but it really is genius.
And, depending on the season you can use a variety of fruits.
I love today's cake featuring cherries, strawberries, and blueberries. You can always substitute with raspberries or blackberries if those are your favorites.
This cake is simple and rustic and perfect for a late summer or early fall wedding. The addition of a wood slab just adds to the overall rustic look and feel of the cake.
You can find this cake here.
Read More:
berries on cakes
,
fall wedding cakes
,
fresh fruit on cakes
,
Rustic Wedding Cakes
,
summer wedding cakes
,
white wedding cakes