0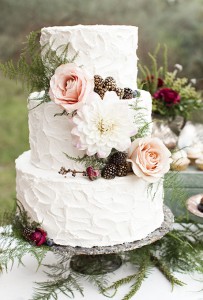 A quick, cursory glance at today's wedding cake and you might think "OK, it's a pretty white cake with some fresh flowers."
But look closer. This cake has a feature that is unique and one I wouldn't have thought of on my own.
This cake is adorned with gold-dusted berries and they look like mini pine cones.
In fact, that's what I thought they were when I first saw this lovely fall-inspired wedding cake. But oh no, they're gold-dusted berries.
And that is genius.
This lovely white wedding cake could be your run-of-the-mill pretty white cake with flowers but the addition of those berries makes it a perfect fall cake. Of course the addition of the white dahlia, blush roses, and fresh greenery help the cause too.
Overall, it's a gorgeous rustic wedding cake and it's perfect for early fall. For more drama you could always add a few darker flowers, perhaps deep red roses instead of the blush pink variety.
You'll find this wedding cake here. It was created by Elise Cakes.
Read More:
cake with gold berries
,
fall wedding cakes
,
gold and white wedding cakes
,
gold dusted berries
,
white wedding cakes