0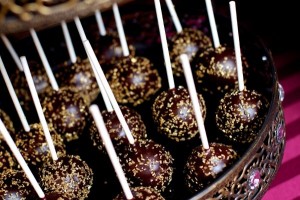 I love the idea of serving an alternative to wedding cake, especially in the summertime when it's often too hot to eat.
And, cake pops are the perfect alternative to a big and fancy wedding cake.
Sure you could still have a smallish wedding cake for the happy couple to slice – ya know, for those "slice the cake" photos! But then serve a dessert table full of sweet treats including cupcakes (mini cupcakes are so much fun), cake pops, candy, and other sweets.
These gorgeous chocolate cake pops would be ideal as a centerpiece at the dessert table. They're decadent and elegant at the same time.
And really, everyone loves chocolate right?
You'll find these chocolate cake pops here. They were created by BIJOUX Fine Cakes.
Read More:
cake pops
,
chocolate cake pops
,
dessert tables
,
wedding cake alternatives