0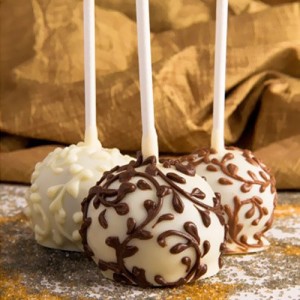 Since tomorrow is Halloween and I have sweets on my mind, it seemed like a good time to showcase one of my favorite ideas for wedding favors.
I give you the brownie pop.
These fun and delicious treats make a great idea for favors – or just for the dessert bar if you're planning one for the reception. Or you could just have a plate at each table so guests could enjoy one after dinner but before cake.
I love the vintage scroll design on these cake pops – they would be lovely at your fall wedding.
Of course there are many other designs available including pumpkins (perfect for your Halloween-themed reception), snowflakes, bride and groom, or just a simple year-round design.
Each brownie pop is coated in chocolate – which means they're chocolate dipped in chocolate! Your guests will love this delicious favor.
You can find these brownie pops (in various designs) here.
Read More:
brownie pops
,
cake pops
,
chocolate wedding favors
,
edible wedding favors
,
fun wedding favors
,
wedding favors