0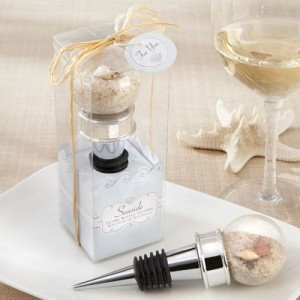 Summer is officially here and my thoughts are all beach-themed. What I wouldn't give for another week at the beach right now.
If you're planning a beach-themed wedding or reception – or even just a destination wedding in a tropical setting – today's featured wedding favor is the perfect parting gift for your guests!
These bottle stoppers feature a chrome and rubber gasket stopper topped with a glass globe filled with sand and shells.
The stoppers would be a great table decoration – for guests to take home, of course – but they also come pre-packaged in a box so you can give them as gifts to your guests.
You'll find these stoppers here.
Read More:
beach themed favors
,
fun wedding favors
,
sand and shell stoppers
,
wine bottle stoppers