0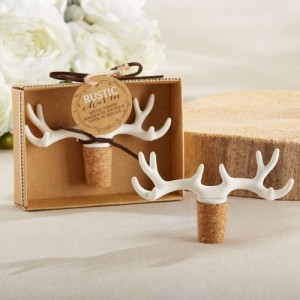 On Dasher, on Dancer, on Prancer and Vixen! On Comet, on Cupid, on Donner and Blitzen!
Since we are just days away from Christmas it seemed fitting to showcase a fun wedding favor with a holiday theme.
That fun favor would be these Antler Bottle Stoppers. (No reindeer were harmed to make these stoppers. Promise.)
These bottle stoppers would be perfect for a holiday-themed reception – or if you're having a rustic reception. Basically they'd work all fall and winter.
If you're hosting out-of-town guests you could pair the stopper with a local bottle of wine or maybe with a set of fun and festive wine glasses.
Happy Holidays!
You'll find these antler bottle stoppers here.
Read More:
bottle stoppers
,
Christmas wedding favors
,
fun wedding favors
,
rustic wedding favors
,
wine wedding favors