0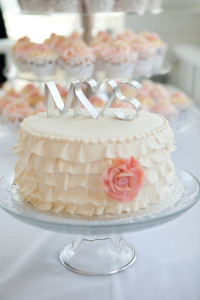 The other day we featured cupcakes as an alternative to a big wedding cake, and today we're talking about a smallish wedding cake as an alternative dessert.
Today's featured cake is the perfect size for a couple who wants to have a dessert buffet or cupcakes in lieu of a traditional wedding cake.
I love the vintage look of today's cake.
The small cake features ruffled icing and pearls – resembling the lokk of an older wedding dress. The single sugar flower on the side is the perfect addition.
A simple yet lovely cake requires a classic cake topper and the initial cake topper is the perfect fit for this cake!
You'll find today's cake here. It was created by Desserts by Lori.
Read More:
one tier cakes
,
small wedding cake
,
summertime cakes
,
vintage wedding cakes