0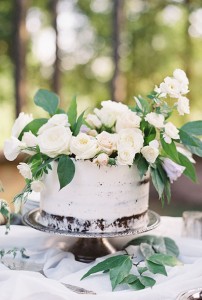 There's something to be said for an elegant, one-tier wedding cake.
With a smaller cake there's no muss, no fuss but the cake can still steal the show.
While I'm a fan of big, elegant and fancy wedding cakes I also like the smaller cakes.
Whether you're hosting a small, intimate reception and you don't need a big cake, or you're planning on serving other desserts (cupcakes, a dessert bar, or maybe a cheese wedding cake) – a one-tier cake can be perfect for so many reasons.
I really like this one-tier cake. First, it's an almost 'naked' cake with minimal frosting. Because as much as I like frosting, you don't want to drown a one-tier cake in too much buttercream.
And second, it's just pretty. The fresh white roses and greens give the cake an elegant vibe, while the thin layer of icing allows the dark hue of the cake to peek through. It's picture perfect.
This is an ideal cake for your small, elegant reception.
We found this lovely cake here. It was created by Earth and Sugar.
Read More:
cheese wedding cakes
,
cupcakes
,
fall wedding cakes
,
naked wedding cakes
,
one tier cakes
,
roses on wedding cakes
,
winter wedding cakes