0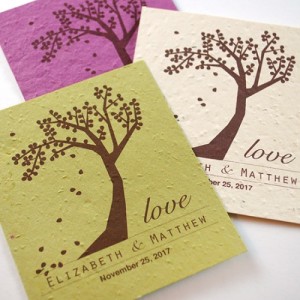 I love the idea of a wedding favor with purpose – not just something that your guests will toss in a drawer in their kitchen.
Which is why I'm loving these plantable seed cards!
Your guests will leave your celebration and have something they can actually plant in their yard (or a flower pot, depending on the seeds).
These plantable seed cards can be personalized with several different designs and colors.
Handmade paper is embedded with wildflower seeds and attached to the cards. Planting instructions are included on each card!
You can choose from three different collections when choosing the plantable cards.
You'll find these environmentally-friendly favors here.
Read More:
fun wedding favors
,
personalized wedding favors
,
plantable seed cards
,
seed favors