0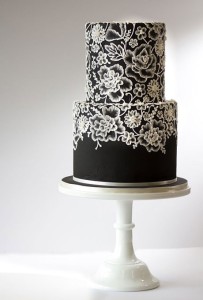 There's something so elegant about a black and white wedding cake.
Black wedding cakes are a modern trend and one that demands a formal setting.
Add in a white lace design on the cake and you've got a stunning wedding cake.
Today's featured cake would be perfect at a late summer, fall, or winter wedding.
It might be a bit dark for a summertime wedding – and you should probably avoid a cake like this with an outdoor wedding!
I love the look of the lace on the black icing – it's so bold yet also so beautiful.
You can find this cake here. It was created by Amy Beck Cake Design.
Read More:
Black and White Wedding Cakes
,
lace on wedding cakes
,
modern wedding cakes
,
white lace wedding cake