0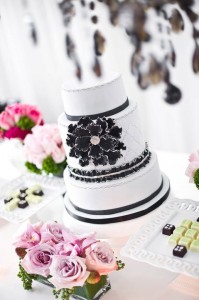 We've talked about black wedding cakes here on A Wedding Cake Blog before, and I have a confession to make:  I didn't love the idea.  Just thinking about all.  that.  dye.  Well, it didn't set well with me.
But here, in my humble girly girl opinion, is the perfect black and white cake for the bride who craves the drama that the stark contrast of this combo brings, but feels the same way I do about the over zealous application of food coloring.  Rather than getting the "black" part of the equation from tinted fondant or buttercream (think what that does to teeth, People!) this inspired cake artist made the magic from one perfectly placed sugarpaste flower, and ribbon, which trims each layer.  My favorite deet of the cake?  The black lace "garter" trim on the middle layer, which also happens to be a double height tier – a trend we're lovin' for 2011.
So, what do you think of this incredible cake, made Jessica Berard Cakes, and featured on Calligraphy by Jennifer's Blog?
We are definitely smitten.
Read More:
Black and White Wedding Cakes
,
Black Wedding Cakes
,
double height tiered wedding cakes
,
fondant wedding cakes