0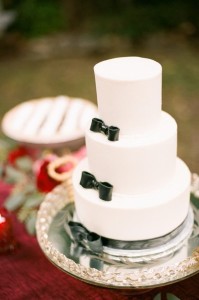 I am SO in love with this cake! The minute I saw it I thought "I need to renew my vows so I can have this cake at the reception!"
Look at it.
A simple and elegant white cake adorned with only three black bow ties.
It really is cake perfection!
This cake would be ideal at a formal reception or at a less-than-formal event. And if you want to add a pop of color you could make the bows a different hue.
You really can't go wrong with black and white – it works in every season and always add a touch of elegance to a dessert table.
You can find this cake here. It was created by Cedarwood Weddings.
Read More:
Black and White Wedding Cakes
,
black bows on cakes
,
bow ties on cakes
,
cakes with bows
,
elegant wedding cakes
,
fall wedding cakes
,
formal wedding cakes