0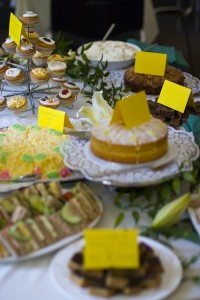 Not me..no ma'am.  I am a lover of ALL cake.  Chocolate, Vanilla…Red Velvet..Oh red……but I am getting off on a tangent.
Today I am not featuring one particular cake..but one idea that is very innovative and cute!  At this wedding the bride and groom requested that every guest bring a small cake.  This wedding had FIFTY cakes.  Oh yes..50. 
Go ahead and die of a sugar coma. 
I'll wait……………………………………….
Are you back? Good!
As you can see from the photo the guests of this wedding clearly went all out.  Not only are there cakes but cupcakes, pies and fudge.  Each dish is topped with an adorable yellow card describing the dessert.  I don't think this would work for every wedding.  For instance mine..which consisted of mostly people in their early twenties who were still learning that nutrients can be found in things other than beer.  However, if you are having a small family wedding and most of your guest live close by this would be adorable!
Read More:
cake party
,
wedding cake
,
wedding cake party
,
wedding cake pot luck