0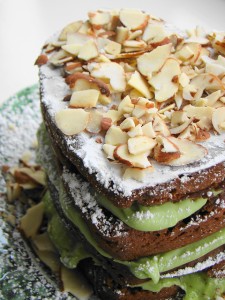 If you visit many trendy bakery sites and blogs (as I do), sooner or later, you are going to come across a whole list of "free" things – gluten-free, sugar-free, casein-free – and you might be tempted to say, "Hmmm, go ahead and add taste-free to that list, too."
Well, I will have to say, respectfully, that –free doesn't have to be devoid of culinary character.
Are you a bride – or a groom – looking to feature a vegan choice for your wedding?  Then YOU, Gentle Reader, have come to the right place.  Check out Janet Hudson's Mocha Almond Fudge Avocado Cake.
Rich, decadent, velvety…there is not an ingredient here that makes me feel deprived.  On the contrary, between the beautiful, buttery avocado, the rich chocolate, and the creamy coconut milk, I'm ready to surrender my Omnivore Card and join the Other Team.
Janet has graciously provided the recipe for her beautiful creation.  So bake one yourself, or give it to your baker of choice, and prepare to be lauded as the couple who provides good – and good for you – treats for their guests.
Read More:
avocado
,
chocolate
,
coconut milk
,
heart-shaped cake
,
Janet Hudson
,
mocha
,
vegan